Thank you for joining us during the fifth edition of

THE HERITAGE NIGHT

From now on you will be able to enjoy some fragments of the best moments of ESCENA PATRIMONIO Dance Festival and the special contents of the 15 Cities in the sections VIVE and ABIERTO PATRIMONIO.

We are already working on the next edition of LA NOCHE DEL PATRIMONIO in September 2023
Cía. Arnau Pérez.
«shortwave»
_______
CORRAL DE COMEDIAS DE ALCALÁ DE HENARES.
Jesús Rubio Gamo y Luz Prado.
«32 Estudios Elementales»
_______
AUDITORIO DE SAN FRANCISCO.
Teresa Lorenzo.
«Mística»
_______
PLAZA DE SANTA MARÍA.
Janet Novás.
«Feelings»
_______
PLAZA DE SAN JORGE.
María M. Cabeza de Vaca.
«La Furia»
_______
PUERTA DEL PUENTE.
Proyecto Cano & Aibar.
«Todas las noches»
_______
TEATRO – AUDITORIO «JOSÉ LUIS PERALES¨.
Ogmia.
«Mother Tongue»
_______
BALUARTE DE SANT PERE/ BALUARTE DE SAN PEDRO.
Estévez/Paños y Compañía.
«Díptico #1 [Campanillero / Silencios]»
_______
TEMPLO DE DIANA.
Compañía Daniel Abreu.
«Las cuerdas»
_______
PATIO CHICO DE LA CATEDRAL DE SALAMANCA.
Alessandro Sciarroni (Italia).
«Save the last dance for me»
_______
TEATRO REAL. SALA DE CÁMARA.
Led Silhouette.
«Los perros»
_______
IGREXA DA UNIVERSIDADE.
Claudia Castellucci (Italia).
«Il trattamento delle onde»
_______
JARDÍN DE LOS ZULOAGA.
Eduardo Guerrero.
«EN-TRES»
_______
EL SEMINARI – CENTRO TARRACONENSE.
Compañía Sharon Fridman y Melania Olcina.
«147 abrazos» y «la declamación muda»
_______
SINAGOGA DEL TRÁNSITO.
Cía. Daniel Morales y José Javier Delgado.
«Poesía en verse: Celeste»
_______
HOSPITAL DE SANTIAGO.
5th Edition of THE HERITAGE NIGHT
17th  September 2022
The Spanish World Heritage Cities Group is delighted to present on Saturday, September 17th, the fifth edition of THE HERITAGE NIGHT, an unprecedented world-class cultural and artistic event taking place simultaneously the same night in the 15 Spanish World Heritage Cities: Alcalá de Henares, Ávila, Baeza, Cáceres, Córdoba, Cuenca, Ibiza / Eivissa, Mérida, Salamanca, San Cristóbal de la Laguna, Santiago de Compostela, Segovia, Tarragona, Toledo and Úbeda.
THE HERITAGE NIGHT will join this year the celebrations of the 50th anniversary of the World Heritage Convention of 1972 in collaboration with the UNESCO World Heritage Centre and several World Heritage Associations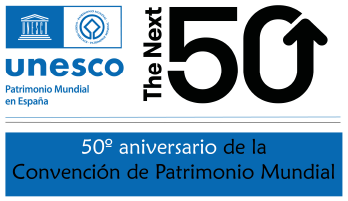 EUROPE'S LARGEST WORLD HERITAGE CELEBRATION
The fifth edition of Europe's largest UNESCO World Heritage event will consist of three different sections:
ABIERTO PATRIMONIO: Late-night opening hours of sites, museums and cultural spaces
VIVE PATRIMONIO:  Expanded cultural and leisure programme in the historic centres
ESCENA PATRIMONIO: Contemporary Dance Festival in UNESCO Heritage sites
WWW.THEHERITAGENIGHT.COM
On the website www.theheritagenight.com you will find special selected contents portraying the best of the cultural heritage of the 15 World Heritage Cities.
Once again the HERITAGE NIGHT will also be available from home with live streaming of 15 performances by the most acclaimed Spanish artists presented in the unique setting of the UNESCO World Heritage Sites in the framework of the Dance Festival ESCENA PATRIMONIO
DANCE FESTIVAL ESCENA PATRIMONIO
Thanks to ESCENA PATRIMONIO and its artist-in-residence programmes, every year we offer to world-class choreographers the opportunity to live and work outside of their usual environments, providing them with time to reflect, research, or produce work site-specific and in situ pieces for our Cities using the World Heritage Sites as live platform for dance creations and workshops.
The Festival has been consolidating as an important decentralised platform for dance and a laboratory for site-specific creations.
2022's edition on 17th September will be focusing on the concept of "legacy" and it will be dedicated to dance in all its forms and genres with a strong emphasis on conjugating traditional dance expressions with live music and a contemporary artstic approach.
Context activities and workshops are also organised to bring dance closer to citizens and visitors and most of the productions will require a community involvement engaging locals of all ages in the actual performances process.
The Festival has been collaborating with several international artists in the past editions and this year the focus will be set on Italian choreographers thanks to the support of the Istituto Italiano de Cultura in Madrid.
Thanks to the support of the Canarian Government and the programme CANARIAS CREA we will offer two artistic residencies to Canarian artists in Ubeda and Baeza.
The festival strives to become an international reference platform for artists willing to work site-specific in extraordinary heritage sites throughout the year and it is a significant opportunity for the Cities to re-think the long term social function of their inestimable heritage sites in constant dialogue with their inhabitants.
COME OR CONNECT AND JOIN US FOR THIS UNIQUE CELEBRATION OF DANCE, CULTURE AND WORLD HERITAGE ON 17TH SEPTEMBER!